NEW Veeam Backup & Replication v9.5
Backup, replication, disaster recovery and beyond
Veeam® Backup & Replication™ provides an award-winning platform for backup, recovery and replication of virtualized applications and data. The #1 VM Backup™ for VMware vSphere and Microsoft Hyper-V virtual environments.
NEW in v9.5:
Built-in management for Veeam Agent for Microsoft Windows and Veeam Agent for Linux
Backup from Storage Snapshots for the world's leading storage providers
Veeam Explorer™ for Storage Snapshots for leading storage providers
Veeam Restore to Microsoft Azure, HP and NetApp)
Customer Favorites:
Instant VM Recovery
Veeam Explorer for Exchange
Veeam Explorer for Active Directory
Veeam Explorer for SQL Server
Instant File-level Recovery
Advanced Replication
---
Backup
Shorten your backup windows
Veeam Backup & Replication provides fast and reliable image-based backup for vSphere and Hyper-V virtual environments — all without the use of agents — giving you the ability to achieve shorter backup windows and reduce backup and storage costs.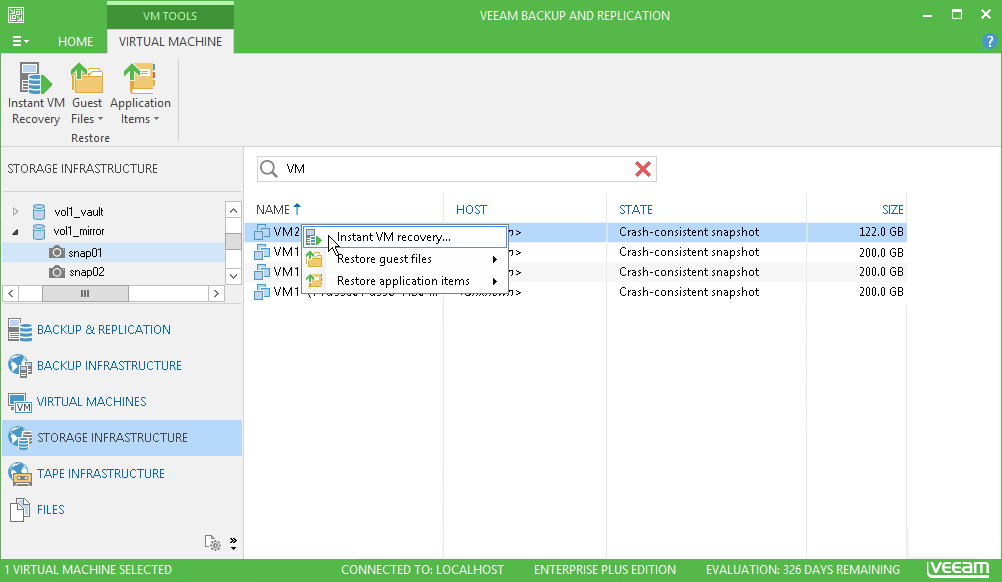 ---
Recovery
Restore entire VMs, individual files and everything in between
Veeam Backup & Replication delivers lightning-fast, reliable restore for individual files, entire VMs and application items — ensuring you have confidence in virtually every recovery scenario — giving you the ability to attain low recovery time objectives (RTO) of < 15 minutes.
Restore entire VMs in minutes with Instant VM Recovery™. Run any virtualized application on vSphere or Hyper-V directly from the latest backup, instead of making users wait while you provision storage, extract the backup and copy it to production. After restoration, you can use VMware Storage vMotion, Hyper-V Live Migration or Veeam's proprietary Quick Migration to move VMs back to production storage.
In addition, you can: